The Life of Shelton Doyle Blalock
July 27, 1921 - April 23, 1997
Last updated content on 3/16/2009
---
Introduction (you are here)
Part One - Early Years
Part Two - The World War II Years
Part Three - 1946 to 1978
Part Four - Post-Retirement
Please do not copy or otherwise reproduce any images or information found here without contacting me first.
Send me your comments and/or questions at:



More about me: http://www.LanceDean.com
---
Son, brother, sailor, shipmate, submariner, war hero, veteran, husband, mailman, father, gardener, rockhound, geologist, archaeologist, artist, artisan, hunter, fisherman, volunteer, entertainer, grandfather, and friend.
This is a very brief overview of my maternal grandfather Shelton Doyle Blalock's life, as well as my maternal grandmother Lodena Alexander Blalock. They were always together. What you'll find here is a compilation of old pictures and articles that I am attempting to place some type of order to. Some articles thankfully had a date printed on them while others a date could only be inferred. I have no idea of a time or place of many pictures so I just placed them where they looked appropriate. Therefore, most of what you see here will be in chronological order, but some things will not be. I suppose if I can't tell and you can't tell, then it doesn't matter much. Nearly every picture and document you will see was scanned by me, so if something doesn't look good it's my fault or else it was too old to scan well.
This tour consists of 5 pages:
Introduction
You are reading it right now.
Part One - Early Years
A brief overview of Doyle from birth until he joins the Navy.
Part Two - The World War II Years
Devoted to his time with the Navy's "Silent Service" during WWII.
Part Three - 1946 to 1978
Details of his life post-WWII from 1946 to 1978.
Part Four - Post-Retirement
His life after retirement from the US Postal Service.
Each image has been scaled down for a cleaner view on each page. To view the full-size version of any image, just click on the image!
Please note at the bottom of each page there is a link to the next sequential page.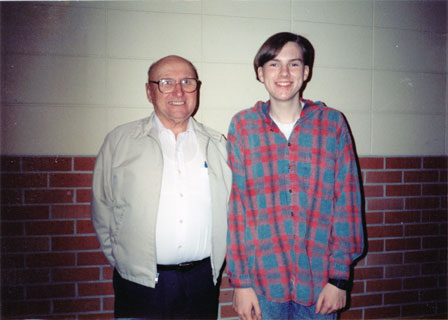 Here's Doyle ("Papaw") and me in the sanctuary of Chunky Baptist Church. I am guessing that I was around 14 years old when this picture was taken.
---