Please do not copy or otherwise reproduce any images or information found here without contacting me first.
Send me your comments and/or questions at:



More about me: http://www.LanceDean.com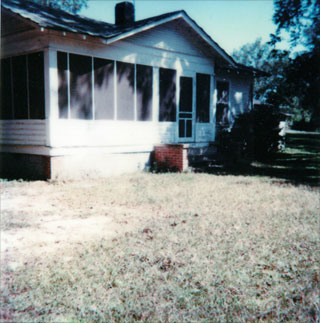 In July of 1979, Doyle and Lodena purchased a house in Chunky, Mississippi from Maude Edwards and began a major renovation. Sometime within the following year, they moved from Little Rock to Chunky.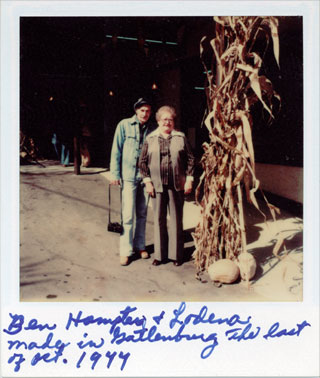 Don't forget about Gatlinburg! Since 1969, Doyle and Lodena have been going to the October craft shows. They make a multitude of friends with artists such as Arnold McDowell, Ben Hampton, and Paul Stewart.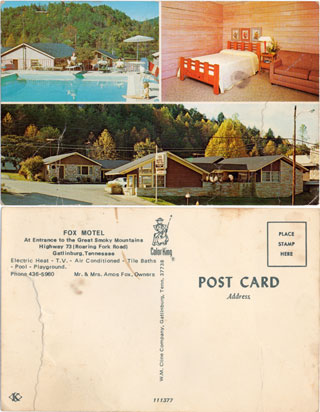 When they aren't camping out of the back of Doyle's truck, they stay at the Fox Motel.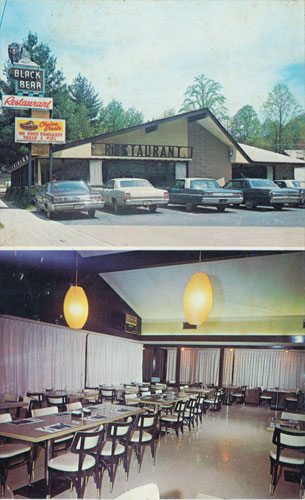 They eat many, many meals at the Black Bear Restaurant. Some of my fondest childhood vacation memories were eating French toast or cheeseburger and fries baskets at the Black Bear with Doyle, looking at the pretty pictures on the placemats, and watching the waitresses dressed in black run around tending to the customers.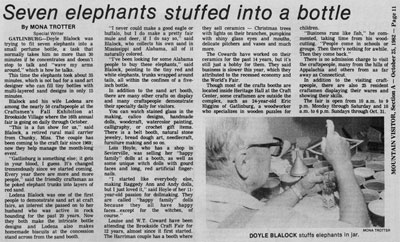 Doyle is featured in an October 1982 issue of Mountain Visitor.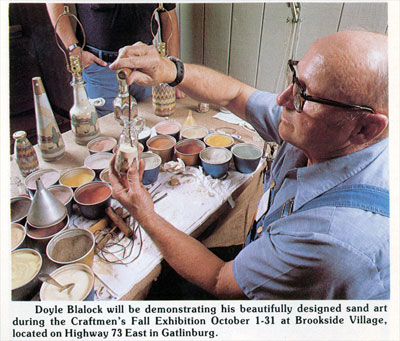 Also in October of 1982 his picture is taken for the Smoky Mountain Visitor's Guide.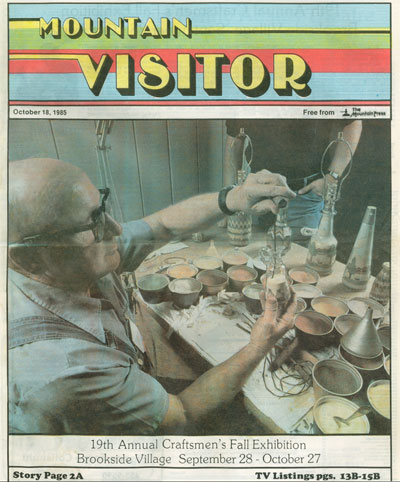 Later, in 1985, the same image used above from 1982 would be inverted for his big feature on the cover of Mountain Visitor. Although he is not mentioned at all on the inside of the paper, he's very very proud of this accomplishment. He loved to show this copy of Mountain Visitor to everyone.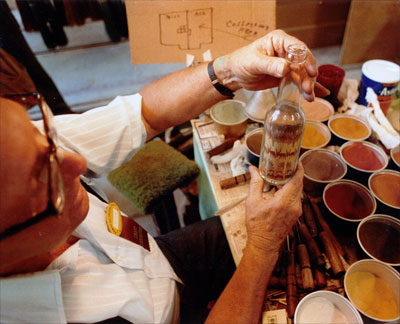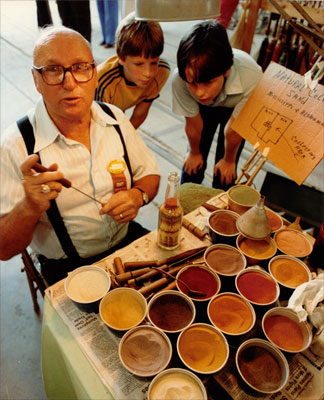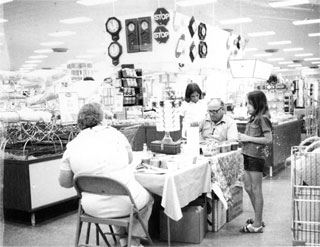 Pictured above is Doyle working at a craft show, likely in Gatlinburg, TN.
Wherever Doyle and Lodena go, they have a good time!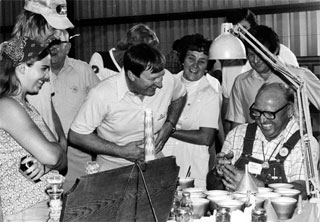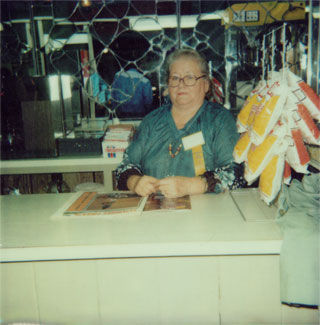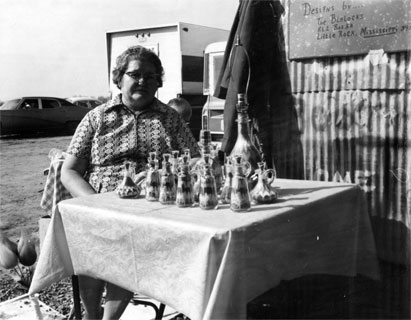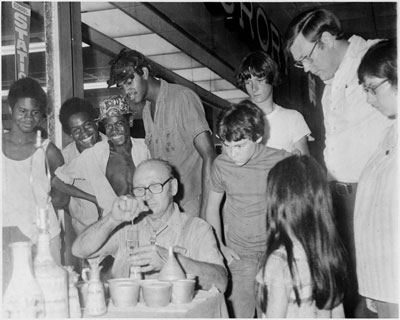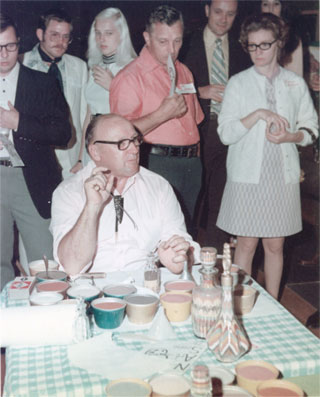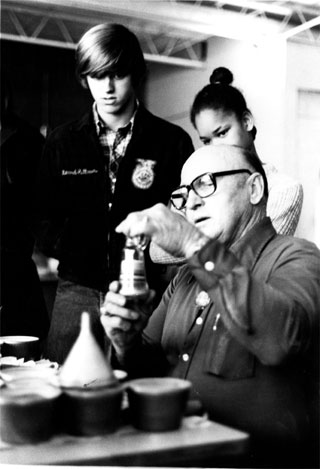 They continue to do countless shows, exhibits, meetings, and so on.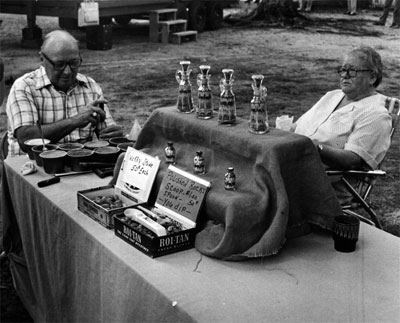 Here is Doyle and Lodena working at Hickory Day in Hickory, Mississippi. I am unsure of the year.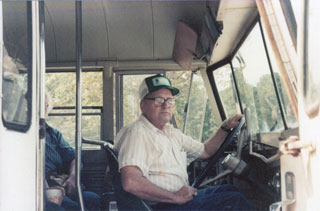 I can still remember him driving our old church bus, "The White Angel" during VBS. It was always fun to ride with Papaw at the wheel!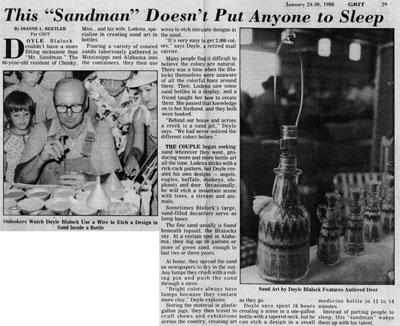 In 1988, Doyle and Lodena are featured in GRIT magazine.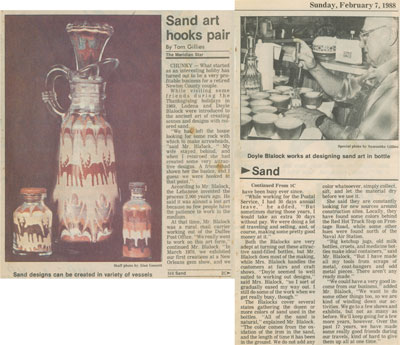 Also in 1988, they are featured in The Meridian Star newspaper.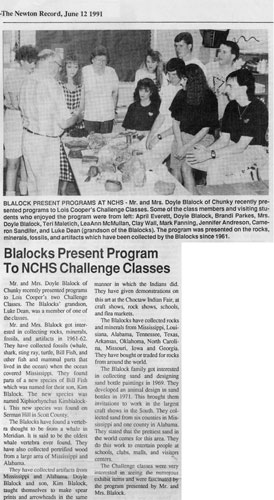 Doyle and Lodena visited the Newton County High School Challenge classes in June of 1991. You can see my brother Luke over on the right.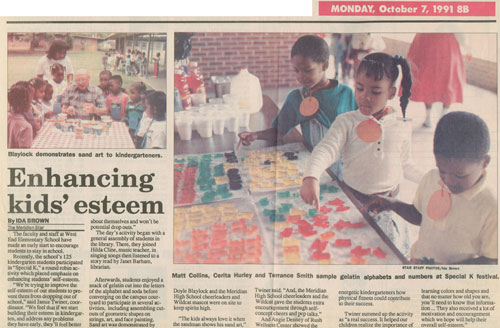 And he's back in The Meridian Star in October of 1991.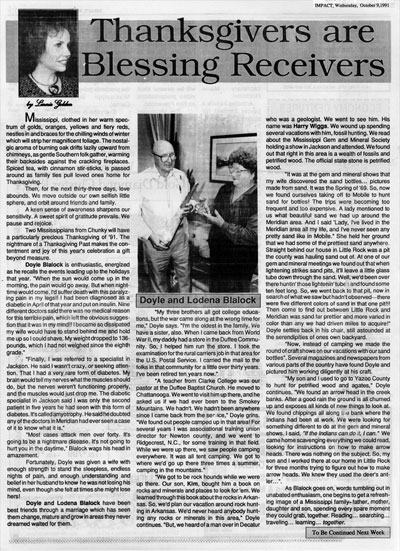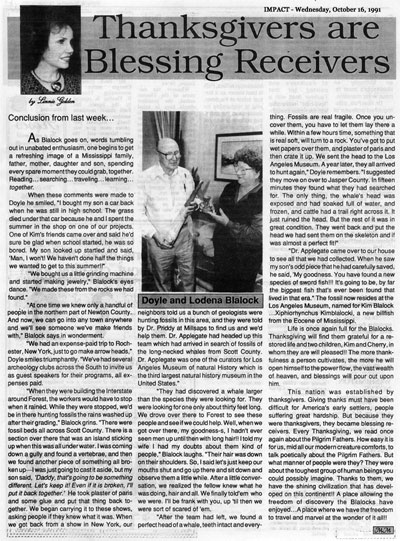 In October of 1991, Doyle and Lodena were featured in a two part article series in the IMPACT newspaper. These articles give a very good overview of their rockhounding/arrowhead making/sand bottle art times.
I suspect this picture is from the early 1990s or late 1980s. :)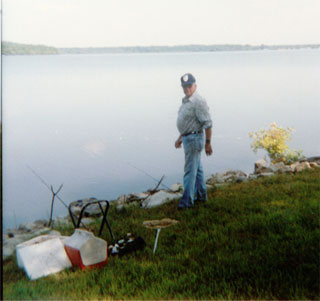 He still loved to go fishing!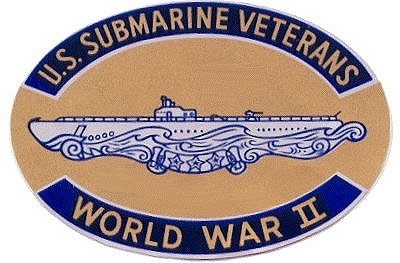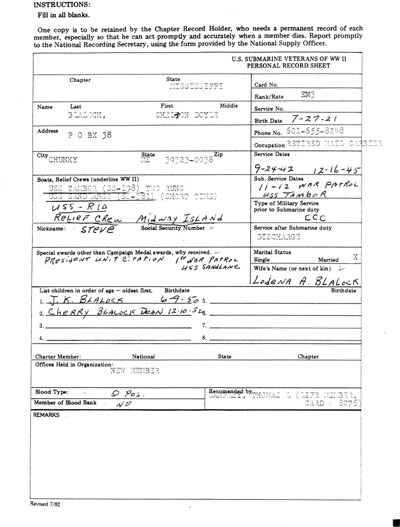 In August of 1992, an old USS Tambor shipmate named Thomas Lampley stirred Doyle's thoughts of the USS Tambor and World War II again.
He sent Doyle an application to join the U.S. Submarine Veterans Of WWII organization. I believe he was part of the USSVWWII Magnolia Rebel Chapter.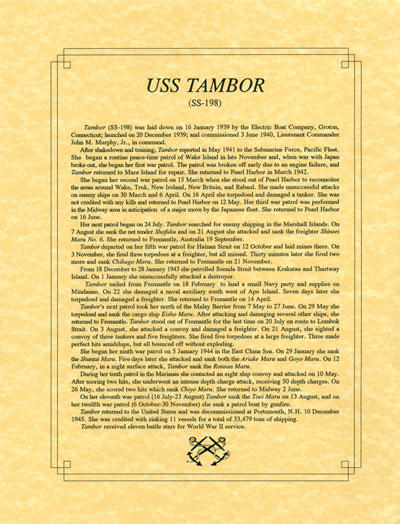 From here on, Doyle read and talked and thought all about his WWII submarine memories.
Doyle and Lodena Blalock, 1993.
On Friday, February 25, 1994, Doyle was featured on Meridian, Mississippi's WTOK evening news on the "Downhome" segment.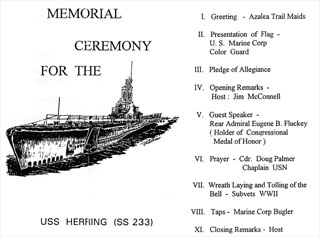 I found this bulletin from a memorial ceremony held for the USS Herring (SS-233). Each state has a submarine assigned to it by the USSVWWII for each of the 52 submarines lost during WWII (California and New York have two) and Alabama has the memorial for the Herring. I'm assuming that Doyle went to this ceremony and got to hear none other than Rear Admiral Eugene Fluckey speak! Admiral Fluckey was the most decorated submariner of WWII era. I wish I knew when this ceremony was, but I'm going to assume it was held in June of 1994 at the 50th anniversary of the USS Herring's loss.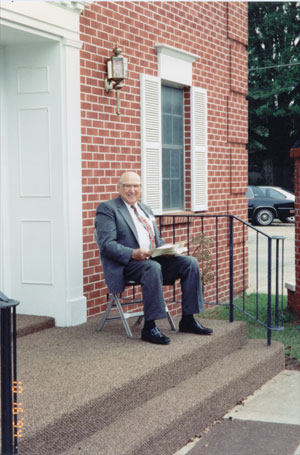 By 1994, Papaw had really slowed down. The diabetes, glaucoma, and other problems had worn him down. He began getting me all involved in church stuff, like being usher and such. The picture above is dated 10/16/1994.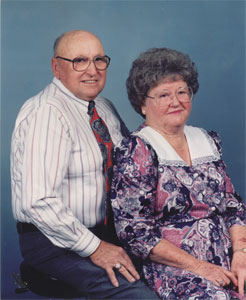 Time moved along. Around 1995, Papaw took me out on their porch and handed me a small sand bottle made from a Cracker Barrel syrup bottle. He told me that he had probably made his last sand bottles, as he could no longer see well enough to work on them. He said "Having diabetes is bad, having glaucoma is bad, having cancer is bad, but going blind is BAD!!"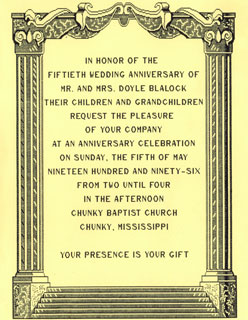 On May 8, 1996, Doyle and Lodena celebrated their 50th wedding anniversary. They had a large party at Chunky Baptist Church on Sunday, May 5, 1996 to honor it. I started college at Mississippi State University in the fall of 1996, and my brother Luke, who had been there for a few years already, was nearly finished.
Doyle had struggled with the diabetes, diabetic amyotrophy, glaucoma, prostate cancer, and a valve replacement. In April of 1997, he had bad stomach pains and learned he needed gall bladder surgery. The last Sunday I saw him at church, he told me that he didn't want to have this upcoming surgery. He said he just knew that this was it for him, and he wouldn't make it out of this surgery. It kind of shook me, but I reassured him that everything would be fine, which is honestly what I expected. Sadly, on April 23, 1997, he did not make it out of that surgery. His heart couldn't take it. He was 75 years old.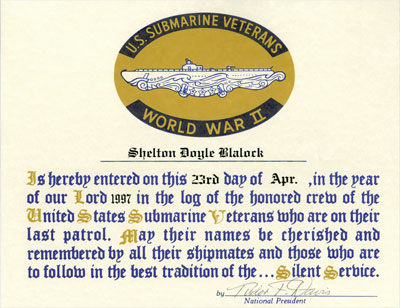 Eternal Father, Strong to save,
Whose arm hath bound the restless wave,
Who bid'st the mighty Ocean deep
Its own appointed limits keep;
O hear us when we cry to thee,
for those in peril on the sea.

O Christ! Whose voice the waters heard
And hushed their raging at Thy word,
Who walked'st on the foaming deep,
and calm amidst its rage didst sleep;
Oh hear us when we cry to Thee
For those in peril on the sea!

Most Holy spirit! Who didst brood
Upon the chaos dark and rude,
And bid its angry tumult cease,
And give, for wild confusion, peace;
Oh, hear us when we cry to Thee
For those in peril on the sea!

O Trinity of love and power!
Our brethren shield in danger's hour;
From rock and tempest, fire and foe,
Protect them wheresoe'er they go;
Thus evermore shall rise to Thee,
Glad hymns of praise from land and sea.

- "Eternal Father, Strong to Save" by Rev. William Whiting (aka "The Navy Hymn")
Ten long years passed by. Lodena longed to be with Doyle every day, and I honestly think she had her bags packed every single day since April 23, 1997. We all miss him. Mamaw passed away on May 11, 2007. She was 84.
Fading light dims the sight
And a star gems the sky, gleaming bright
From afar drawing nigh,
Falls the night.

Day is done, gone the sun
From the lake, from the hills, from the sky
All is well, safely rest;
God is nigh.

Then goodnight, peaceful night;
Till the light of the dawn shineth bright.
God is near, do not fear,
Friend, goodnight.

- "Taps"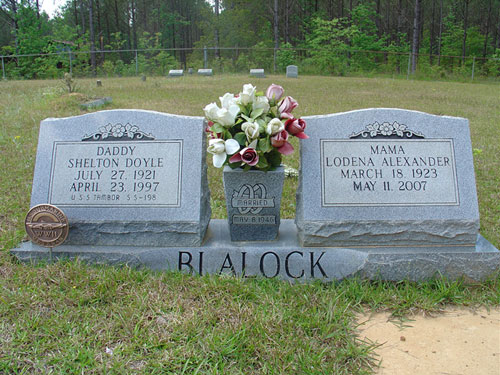 They are both buried in the Duffee Baptist Church cemetary located on the Chunky-Duffee Road in Duffee, Mississippi. It is near Highway 494 at the edge of Newton County, Mississippi.