Please do not copy or otherwise reproduce any images or information found here without contacting me first.
Send me your comments and/or questions at:



More about me: http://www.LanceDean.com
Freshly discharged from the Navy and World War II was now over. What to do? He began working at his father's store in Duffee.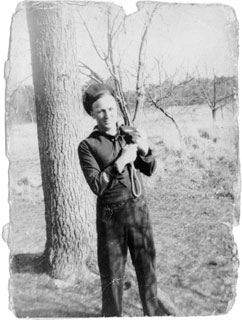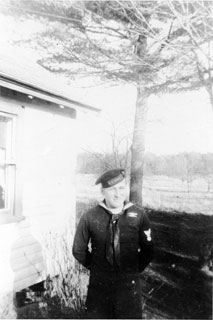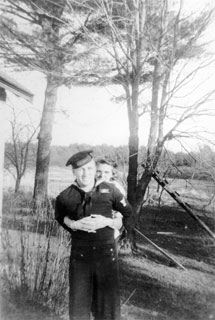 Notice in the pictures above - 1) the dolphins on his right sleeve between his wrist and elbow 2) the electrician's mate (rate), 3rd class (rank, one red stripe) patch on his left sleeve 3) the Submarine Combat Insignia on his upper-left chest. The woman in the picture that is hugging him isn't my grandmother. The back of the picture said "Hazel Dixon Wells" but I've never heard of her.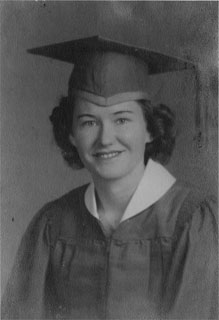 Pretty quickly he met my grandmother, Lodena Alexander. Lodena was attending Center Ridge School, the school where Doyle's younger siblings were going. His father was the principal and his mother was a teacher there.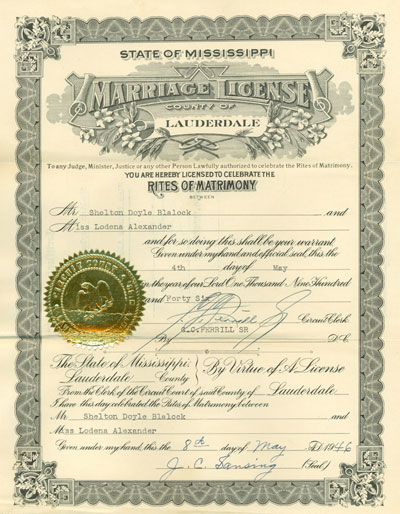 Doyle and Lodena married on May 8, 1946.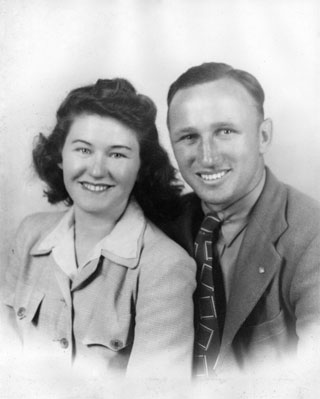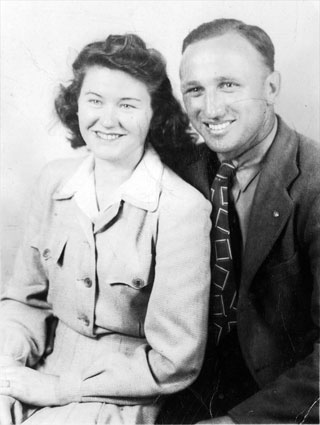 These aren't pictures from their wedding day, but they are a couple of great pictures from their earlier years.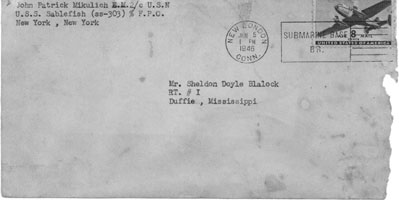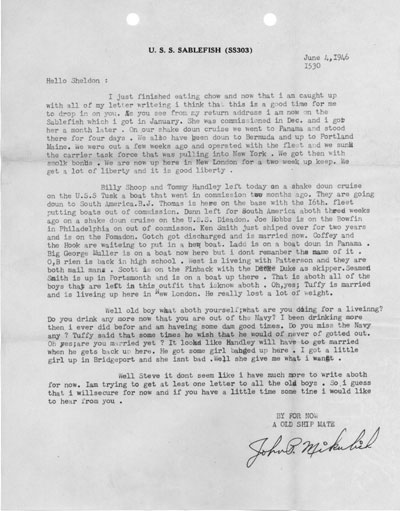 The last mention of WWII days for over 45 years (that I was able to find) was a letter sent to Doyle from an old shipmate, John Mikulich. I guess WWII days were to be forgotten, or attempted to be forgotten. Around 1992, all that will change, though.
Sometime in 1946 Doyle started work for the U.S. Postal Service.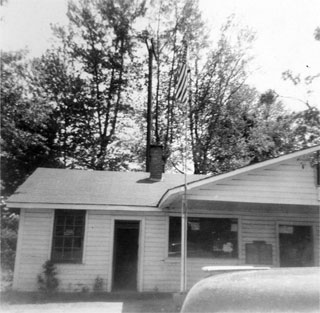 The post office/store in Duffee, MS was located right where the railroad tracks (used to) cross the Chunky-Duffee Road at Duffee. The store that Jesse owned was on the right of the post office.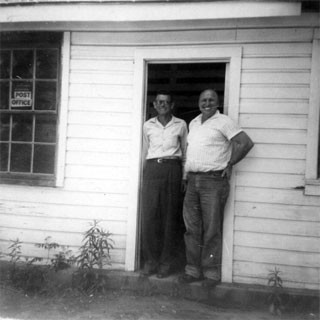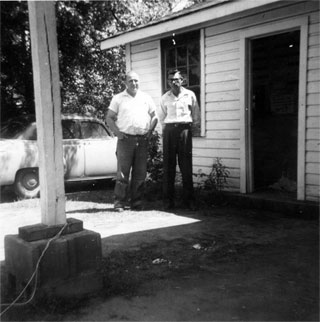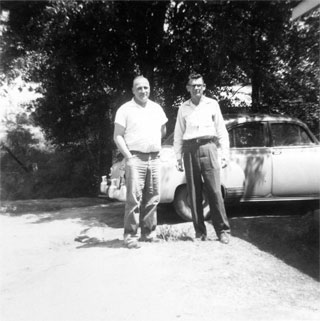 That's Doyle and co-worker Bill Huddleston outside the Duffee Post Office.
Doyle and Lodena had two children. Kim, my uncle, was born on June 9, 1950. Cherry, my mother, was born on December 10, 1952. Their first child, Steve Anderson, died at birth on October 10, 1948.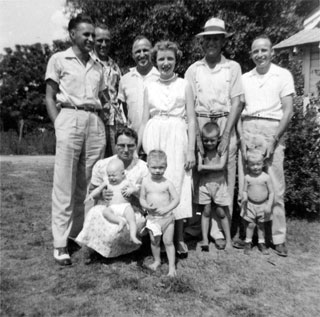 In the picture are Hershel, Harold, Doyle, Sylvia, Jesse, Jesse Jr., Flora (kneeling), holding Terry, Cherry, Kim, and Larry.
Here are Doyle, Lodena, Kim, and Cherry in front of a church (or a house?) under construction.
Here the four of them are in July of 1955 at Rock City.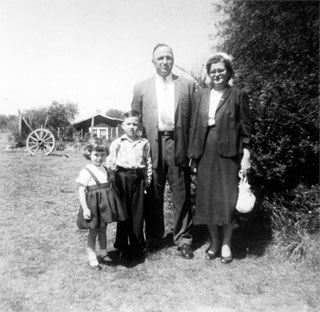 Not sure when this picture was taken.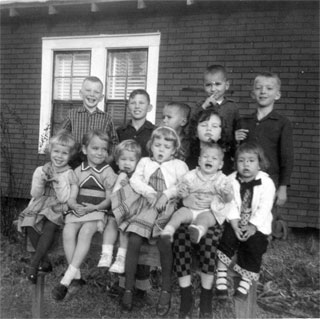 There's a whole new generation of Blalocks!
Front row - Judy Middlebrook, Debbie Blalock, Suzanne Blalock, Patricia Middlebrook, Cherry Blalock, Nancy Blalock (in lap), and Sharon Kay Blalock.
Back row - Terry, Kim, Jeff, John, and Larry Blalock.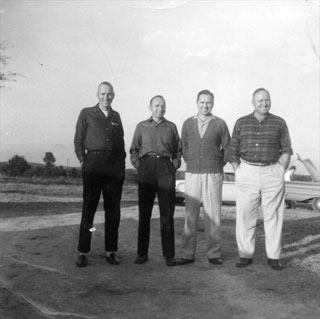 Harold, Jesse Jr., Hershel, and Doyle - the Blalock brothers.
Soon, Doyle and Lodena developed a love of rocks and minerals. They became "Rockhounds", traveling and camping all over Tennessee, Arkansas, Iowa, and Mississippi.

On February 11, 1964, the Blalock family is featured in The Union Appeal newspaper as a family of rockhounds. They have been "into" rocks for only a couple of years, but this is only the beginning!

Doyle took a lot of time to speak at schools, club meetings, or any type of gathering. Here's one from 1965 he took part in.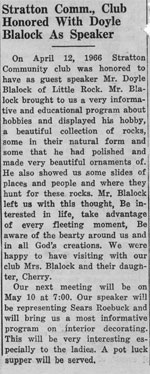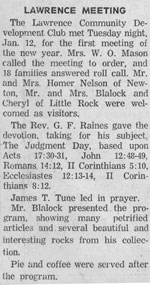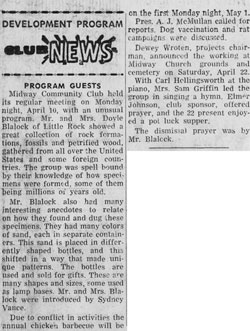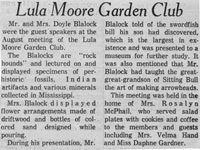 The above articles are a small listing of many more meetings Doyle and Lodena went to at various times.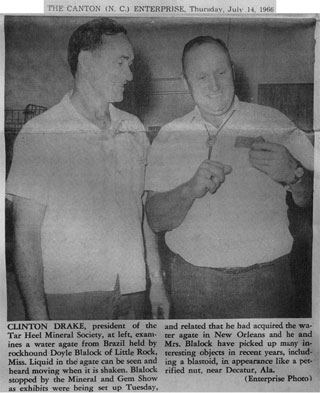 The entire Blalock family got a kick out of going to the Mississippi Gem and Mineral Show every year. Here is Doyle at the 1966 show.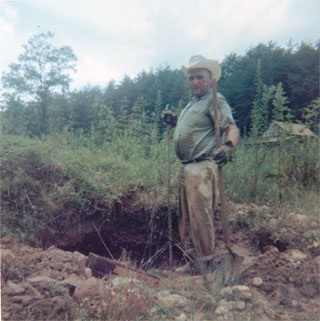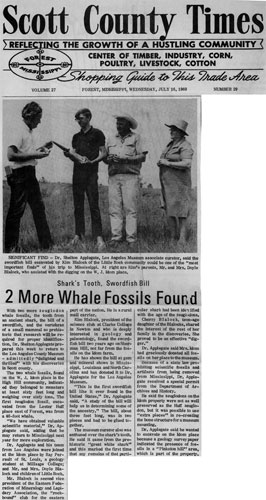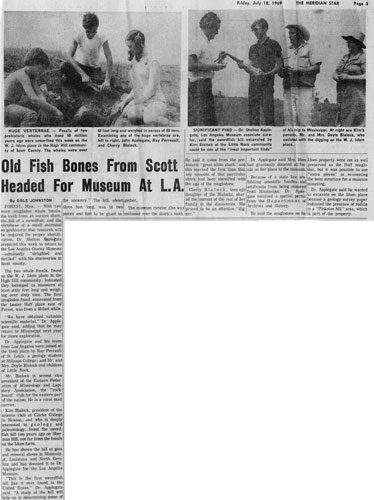 Sometime around 1967, Doyle and Kim found a bill of a swordfish (among other things) which turned out to be a previously undiscovered species of swordfish. It is now on display in the Los Angeles Museum of Natural History.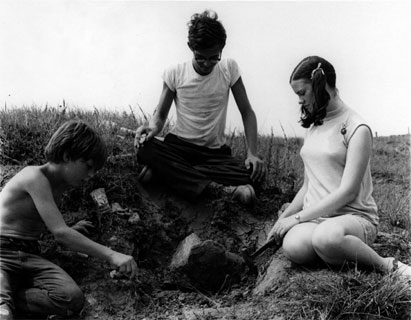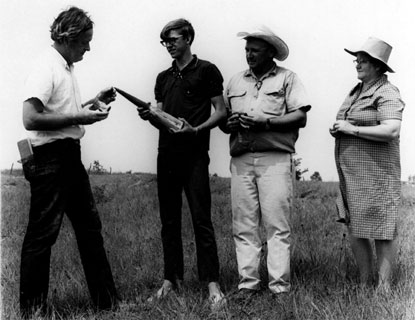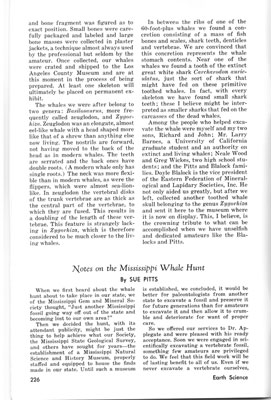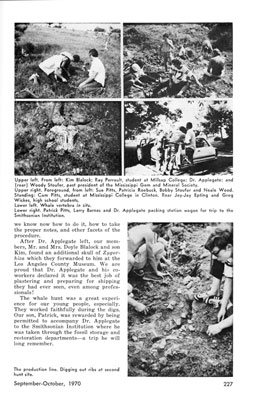 The article above is called "Whale Hunt in Mississippi" by Shelton P. Applegate.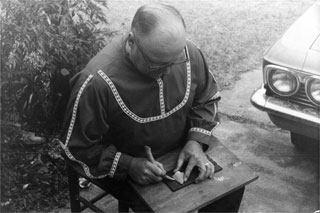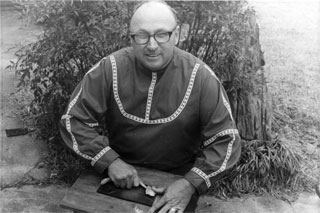 Doyle learned how and loved to make arrowheads!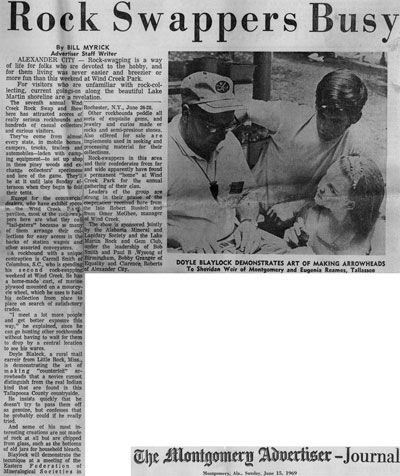 He demonstrated arrowhead making at the Wind Creek Rock Swap and Show in Alexander City, Alabama in June of 1969.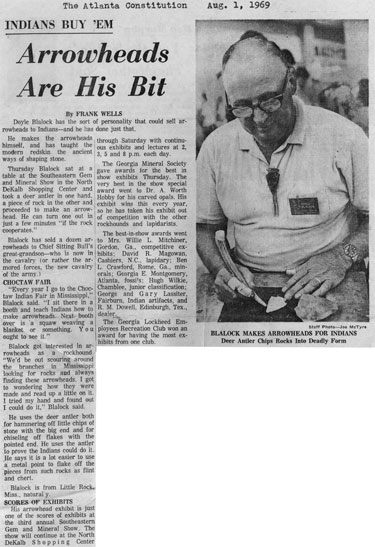 Here's an article from The Atlanta Constitution newspaper dated 8/1/1969 about Doyle and his arrowhead making skill.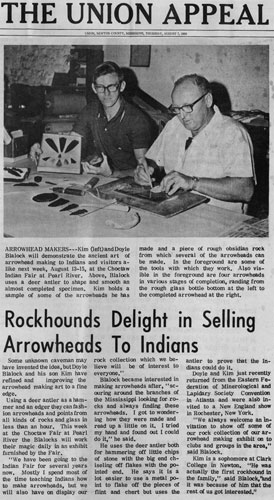 In early August of 1969, the 20th annual Choctaw Indian Fair was approaching. Doyle and Kim were getting ready to demonstrate and sell arrowheads there.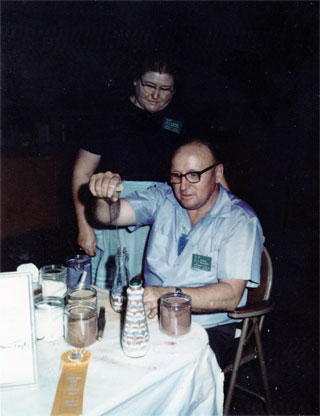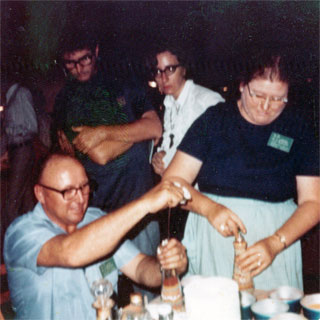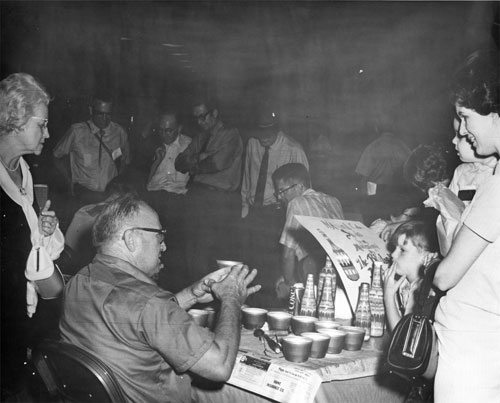 Sometime in 1969, Doyle and Lodena discover sand bottles. They pick up quickly on the craft. Their early sand bottles were somewhat simple in design, but still beautiful. Their earliest work seems to be just layers of different colored sands, followed later by adding in angels, and even later trees, deer, elephants, clouds, all kinds of things. Note in the picture above (don't know when it was taken) the angel design in the bottles. I don't know why the angel-era lasted such a short time. Perhaps he was never happy with the design? Notice in the top picture that they hadn't even started using the butter tins for the sand, but were using glass jars instead.

On February 27 - March 1, 1970, Doyle is working at the 11th annual Mississippi Gem and Mineral Show in Jackson, Mississippi.
On April 11-12, 1970, the Blalocks are working in New Orleans at the 6th annual Dixeland Gem and Mineral Show.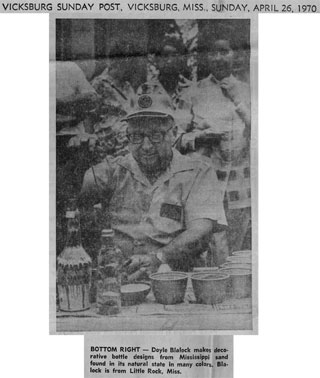 Apparently he had a table at the 1970 Vicksburg flea market. The paper this article was printed on was in very bad shape, but take notice of the bottles he had just finished. He still has a long way to go on practicing!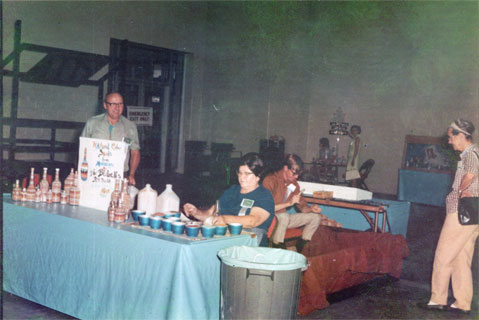 June, 1970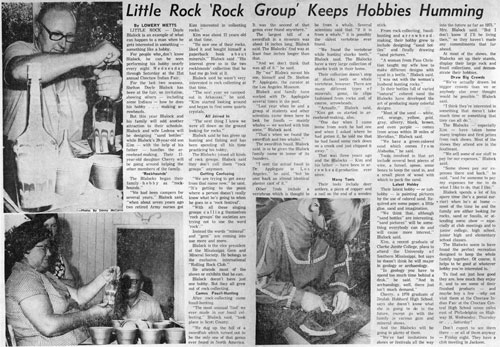 All of the Blalocks loved to work at the Choctaw Indian Fair every year. A large newspaper article was written about them just before the 21st annual Choctaw Indian Fair in 1970.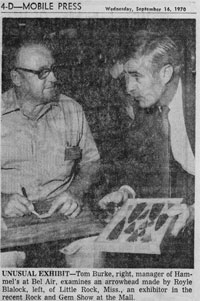 In September of 1970, Doyle is amazing everyone at the Rock and Gem Show in the Bel Air Mall of Mobile, Alabama.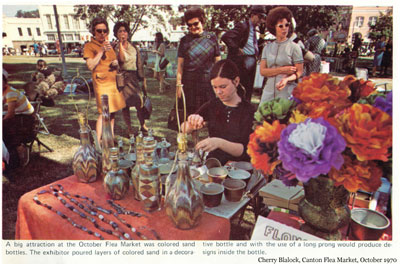 The whole family gets involved in making art from sand and glass bottles. That's a picture of my mother, Cherry, working at the Canton Flea Market in 1970.
In early December of 1970, Doyle and Lodena display their sand bottle work at Sears department store in Meridian, MS.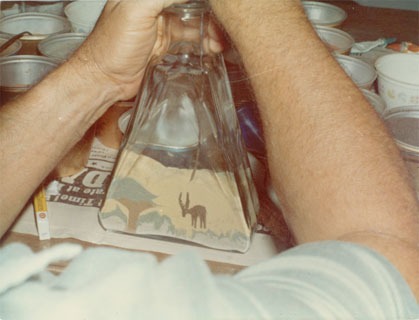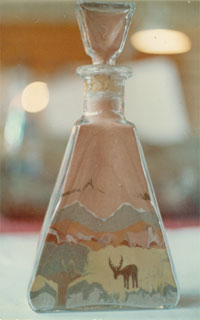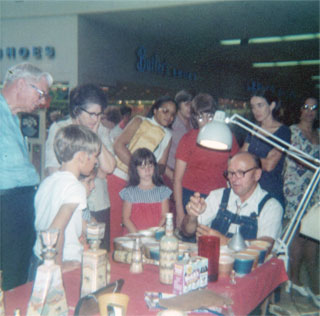 Within the next couple of years, all kinds of designs are implemented. He gets darn good at his work.

In early February of 1971, The Union Appeal once again featured the Blalocks.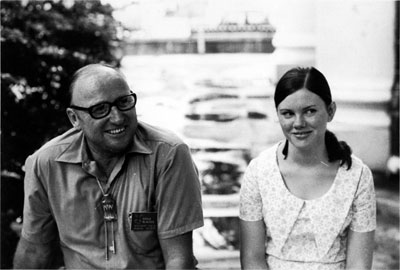 Doyle and Cherry.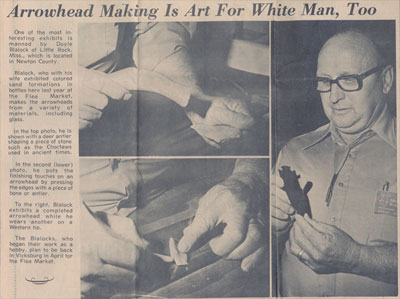 In February of 1971, Doyle is making arrowheads at the Gem and Mineral Show in Jackson, MS.
In late May of 1971, Doyle and Lodena are over in Texas taking part in the Rollin Rock Club Show.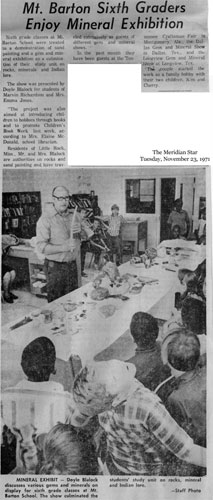 November of 1971, Doyle once again goes to a classroom to show off his rock collection. Kids loved this stuff!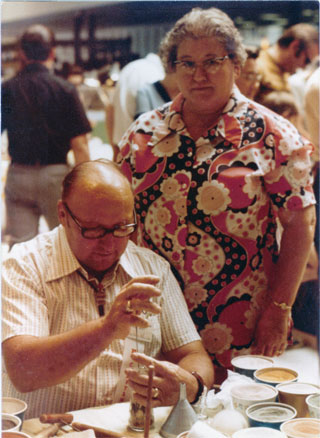 May 25, 1972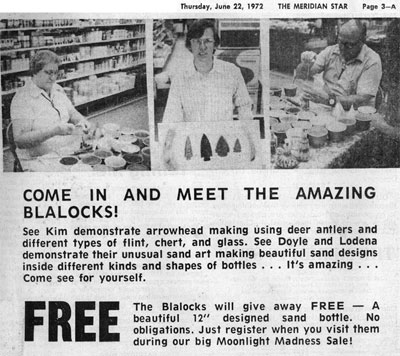 In June of 1972, the "Amazing" Blalocks work at Roses department store in Meridian, MS.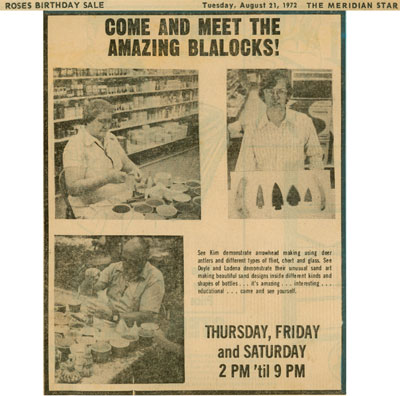 August 23-25, 1972, the "Amazing" Blalocks are once again at Roses in Meridian, MS.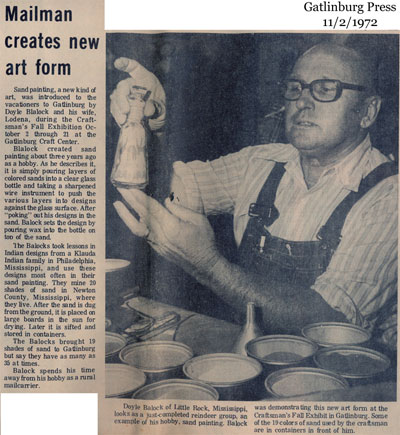 On November 2, 1972, Doyle makes it into the Gatlinburg Press newspaper! It tells of Doyle and Lodena working at the Craftsman's Fall Exhibition on October 2nd through the 21st of 1972. This is the earliest Gatlinburg craft show mention that I can find.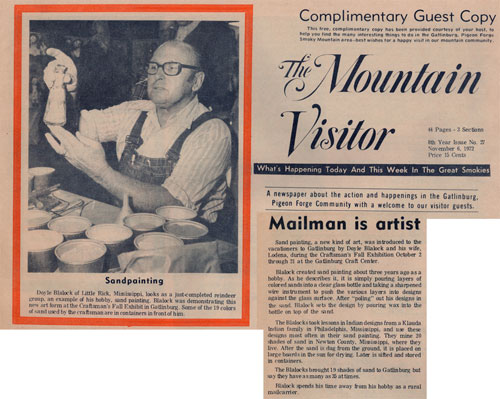 Only a few days later on November 6, 1972, Doyle made it to the front cover of The Mountain Visitor newspaper, which described the same thing as the Gatlinburg Press did.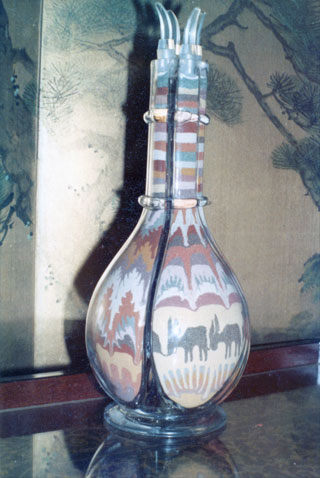 By 1972, Doyle is able to create this amazing piece of art! That is a 4 compartment oil flask, with the opening of each compartment at the top being smaller in diameter than a number two pencil!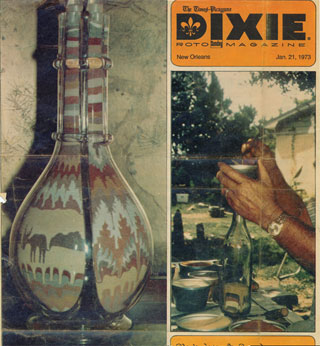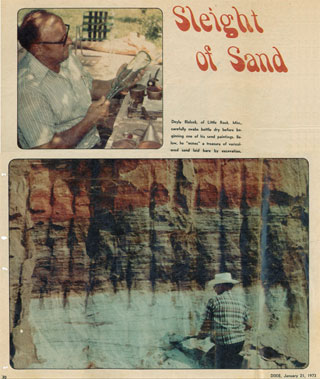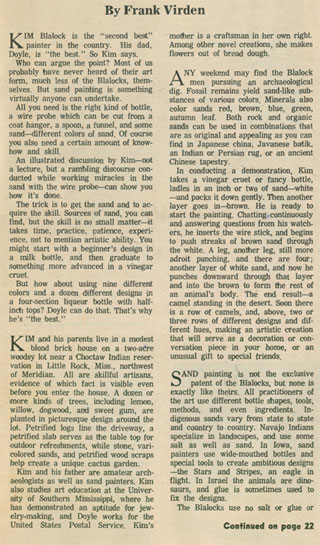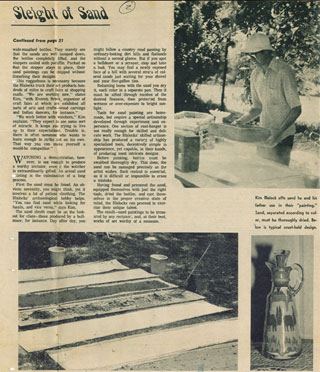 Word starts getting around, and in 1973 the whole family is featured in Dixie Magazine.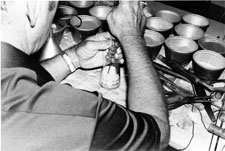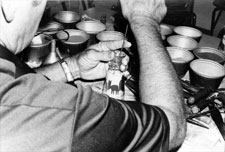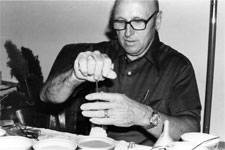 On to June of 1973, things are still getting better!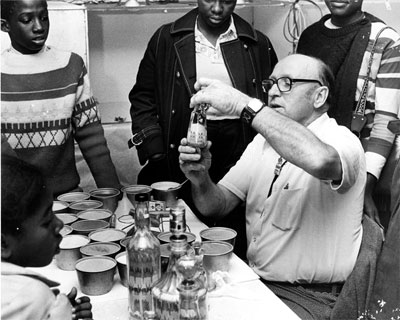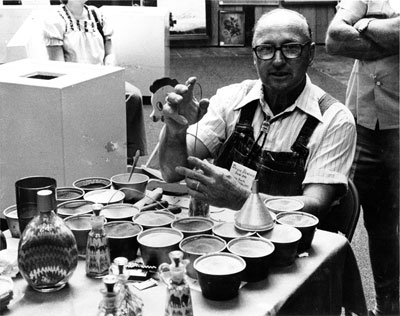 Here are a couple of shots from an unknown time or place.

As of July 12th, 1973, it has been 30 years since Doyle finished Submarine School.

In late July, 1973, Doyle and Lodena worked at the Gemboree in Franklin, TN. They were featured in The Franklin Press on August 2, 1973.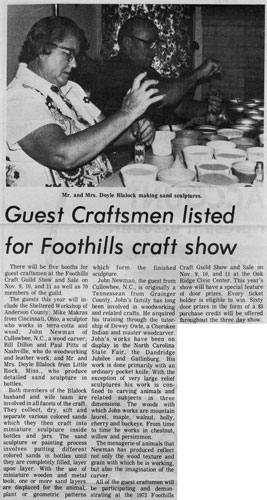 In November of 1973, Doyle and Lodena are guest craftsmen for the Foothills Craft Guild Show and Sale in Oak Ridge, TN. This organization still exists today.

And they are asked to return the following year in 1974.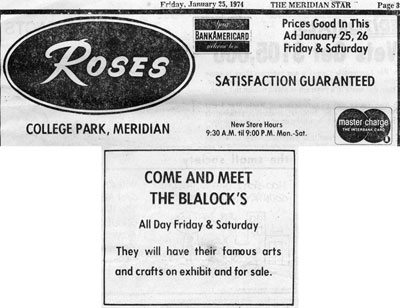 On January 25-26, 1974, Doyle and Lodena work once again at Roses department store in Meridian, MS.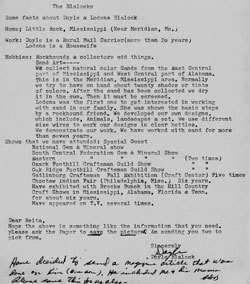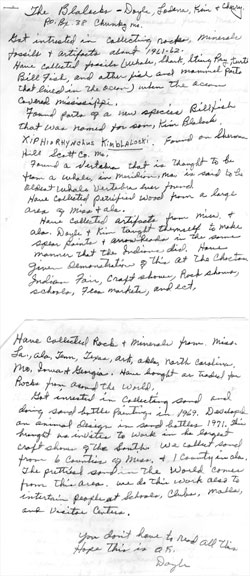 Near this time, they make somewhat of a resume for themselves, apparently for an upcoming newspaper article.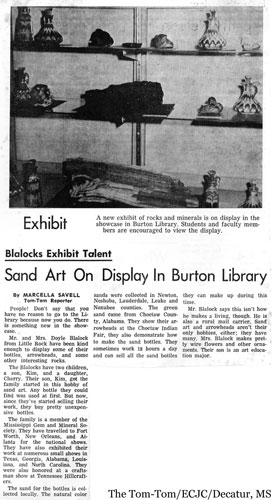 Somewhere in time, I suspect around the mid-70's, Doyle and Lodena displayed their favorite things in the East Central Community College (then called East Central Junior College) library.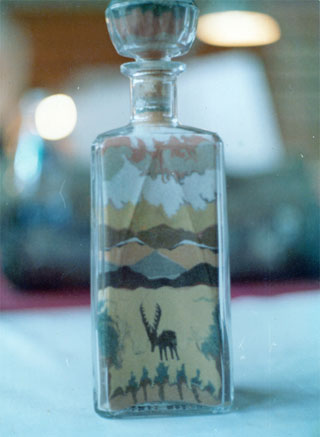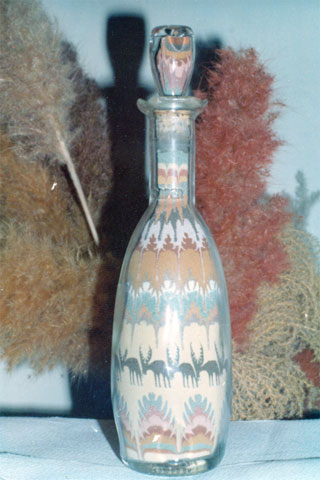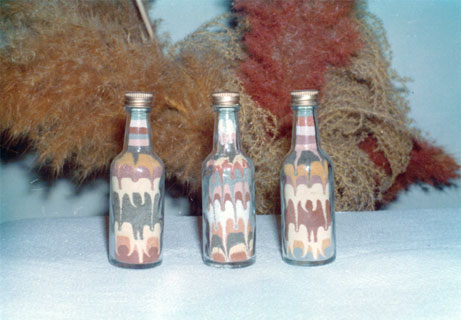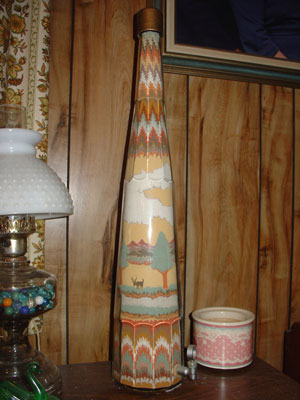 More work, in color!

Here's a good article on Doyle and Lodena from The Newton Record newspaper in April of 1975.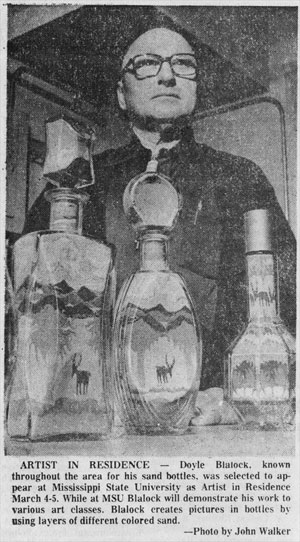 Sometime in or before 1977, Doyle was invited to Mississippi State University as Artist in Residence.
In April of 1977 they work at Crystal Springs.
In May of 1977, they work at Lake Ocoee.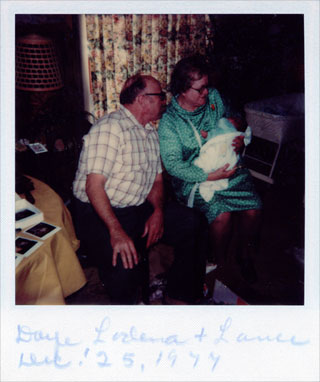 That's me! Christmas 1977.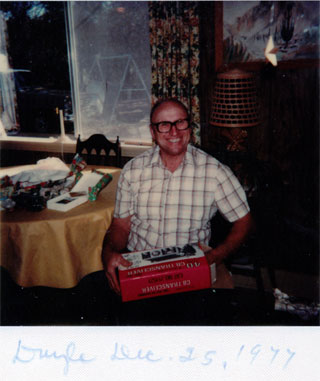 He got a new CB radio for Christmas that year (1977), just 4 days after I was born!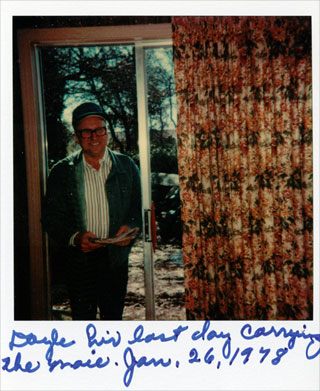 On January 26, 1978, Doyle works his last day at the post office.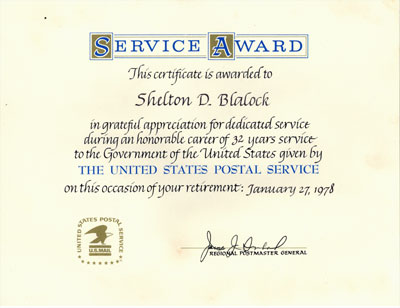 On January 27, 1978, Doyle retires from the U.S. Postal Service after 32 years. A big accomplishment.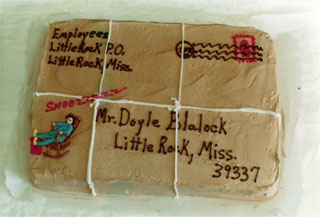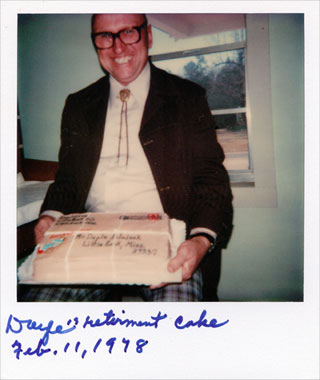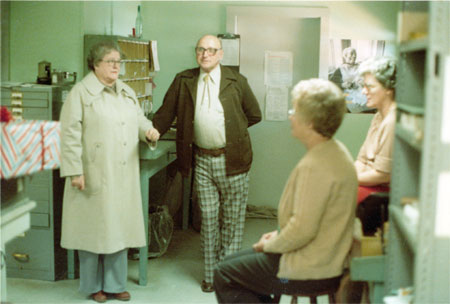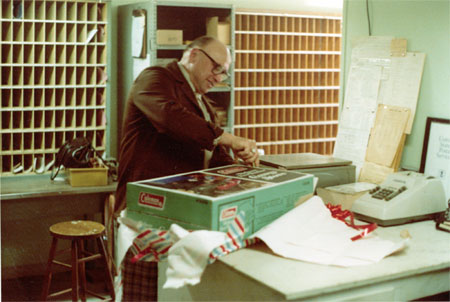 On February 11, 1978, a retirement party was held for Doyle at the post office. He received a large Coleman camp type grill in addition to the cake.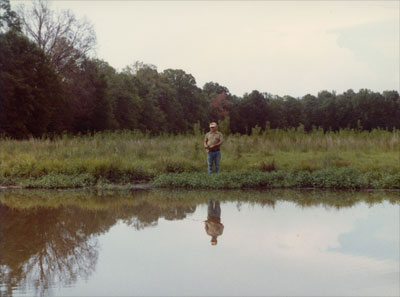 Time for fishing! Or is it?